FSU Film Students at 2018 Cannes Film Festival
By: Dave Heller | Published:
Two Florida State University film students are rubbing shoulders this week with some of the world's most famous movie stars and directors at the prestigious 2018 Cannes Film Festival.
Tyler Knutt and Nicholas Markart, both 21 years old and seniors in FSU's College of Motion Picture Arts, are presenting their documentary, "Peacekeeper," at the festival's American Pavilion, a venue highlighting emerging filmmakers, as well as the Short Film Corner.
"Going to the Cannes Film Festival is absolutely mind-blowing," said Markart, who directed and shot the documentary with Knutt for a sophomore class project. "It feels kind of crazy because if you ask any film student about their chances of getting a project into Cannes, it would seem like a pipe dream."
That dream keeps taking surprising plot twists. The students' documentary, which focuses on the impact of the controversial oil pipeline between North Dakota and Illinois completed in 2017, has garnered attention from smaller film festivals nationwide. As a result, they've had opportunities to attend about a dozen festivals over the past year.
But being invited to the glamorous Cannes Film Festival presents an amazing opportunity, admittedly one that feels surreal, and they are still trying to wrap their minds around the unfolding story. Adding to the drama, the duo recently learned "Peacekeeper" has been nominated for a 2018 BAFTA Award by the British Academy of Film and Television Arts.
"To have this recognition as a filmmaker is extremely rewarding and very humbling, but it's also gratifying to know we're getting this story out to a much larger audience," Markart said. "It's very emotional to know that the people we met, who felt they didn't have a voice, are now being heard internationally."
Those voices included members of the Standing Rock Sioux Tribe in North and South Dakota, who opposed construction of the Dakota Access Pipeline and led protests against the project. The protesters argued the nearly 1,200-mile-long underground pipeline would threaten the environment, water quality and sacred burial grounds.
Markart and Knutt embarked on a long road trip from Tallahassee to the Dakotas, via Washington, D.C., and through a blizzard near Chicago — a wild experience for the two South Florida natives who'd never driven in icy conditions — to record interviews and other footage for "Peacekeeper."
The student filmmakers had planned to put together a documentary spotlighting the pipeline's potential environmental threats. But when they arrived at Standing Rock Reservation in South Dakota, they discovered another critical issue. Crime, particularly violent offenses, increased dramatically in a lot of towns near the pipeline, and residents blamed the oil company's "man camps" of transient workers that had been set up in various locations during construction.
"The man camps were like trailer parks, popping up for about six months and then moving to the next location, and the oil company would populate them with hundreds of workers," Knutt said. "When we arrived, we saw how men had traveled there to work at oil facilities, and we learned crimes against women had soared in those areas, along with sex trafficking, prostitution and drug abuse. Crime rates shot up within three years of the oil companies coming in."
Knutt said the crime problem was not getting a lot of attention, and the media narrative tended to focus on the pipeline's economic benefits, new jobs and revenues for state governments and landowners.
"Nobody was really talking about the impact on people, so the film became more of a human rights piece than an environmental one," Knutt said. "We felt it was more important to shed light on what was happening to women in the area, and that became a focal point."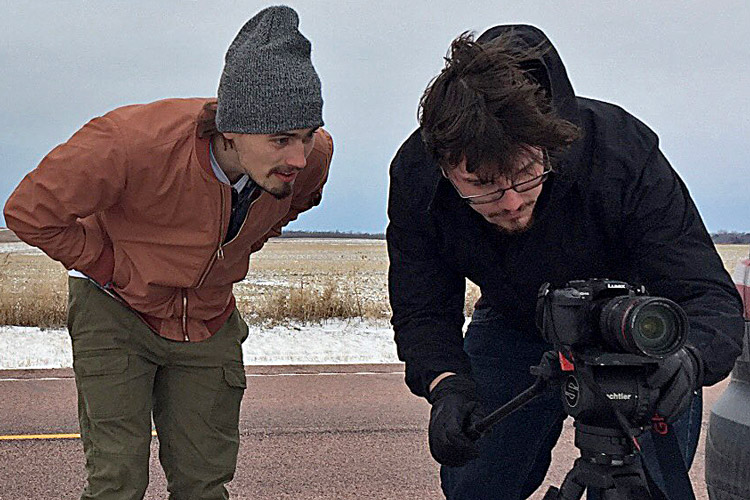 In Cannes, the FSU film students plan to attend several world-premiere screenings, including the dramedy "Under the Silver Lake," written and directed by Florida State graduate David Robert Mitchell.
"Hopefully we'll get to meet him," Knutt said.
Florida State's connections to the film industry paved the way for Knutt and Markart to get their documentary into the Cannes Film Festival and BAFTA Awards competition. In addition, the film school is making the opportunity possible by paying their expenses.
"Cannes is one of the most prestigious film festivals in the world and to be part of that, to showcase yourself and meet other filmmakers is unreal," Markart added. "A big part of going to film festivals is networking, so to have a chance to network with world-class filmmakers and producers is an amazing opportunity, especially at the age of 21."
Florida State is well represented at the 71st Cannes Film Festival. Film school graduate students Lauren Johnson and Kaleigh Spencer, as well as undergraduate Diana Dai, are working as interns.
"This year we were able to help send five of our students to Cannes, the most students we've ever sent," Braddock said. "We're thrilled to have so many students participating in such an important festival."